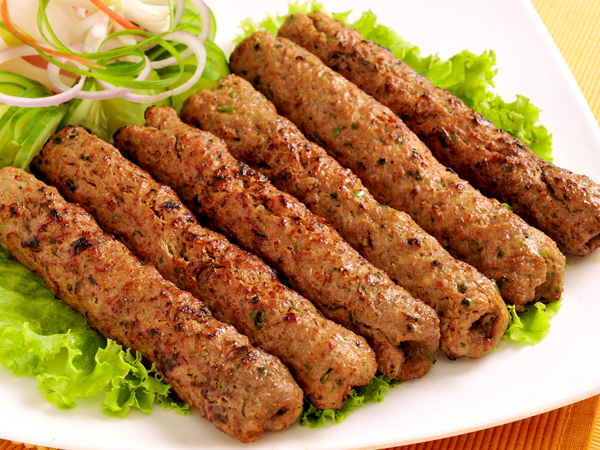 A famous Nawabi recipe from Lucknow passed down through generations. It derives its name from the city of Kakori on the outskirts of Lucknow. It is made with the finest meat of the lamb and a few spices.
Ingredients:
Oven temp: 425F-220 C
2 cups minced mutton/lamb
1 tsp ginger-garlic paste
2 tsp salt
1/4 tsp powdered black pepper
2 tbsp chopped green coriander
Chopped green chillies to taste
2 Tbsp chopped raw papaya
4 cloves
1 black cardamom seeds
1/8 tsp powdered cinnamon
1 tsp cumin seeds
1 blade mace
1/4 tsp grated nutmeg
2 cups onions - sliced thin, and browned crisp in 1/2 cup ghee
1/4 cup bhuna chana - powdered
1 egg
Ghee for brushing some chaat masala
Onion rings and lemon wedges for garnish
Method:
1.Mix all ingredients except ghee and garnishes to marinate for about 4 hours, then grind to form a smooth, thick paste.
2.Knead this mixture well and mix in the roasted gram and the egg.
3.Cover and refrigerate for another hour.
4.About 25 minutes before serving, shape the meat around the skewers and place the kebabs on to a grill over a drip tray, or in a pre-heated oven (also on a drip tray).
5.If cooking them over a charcoal grill, you will have to keep rotating them so that they brown and cook evenly.
6.They should take 15-20 minutes to cook.
7.Brush with ghee and cook another 2 minutes.
Credits: https://food.ndtv.com
0 Comments